Drybox and other labware
Mini-Desiccators for Gas Filling, polystyrene EV1849-06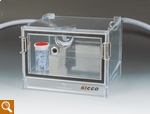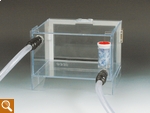 Panels: clear
Material: polystyrene
Temperature resistance: from -35°C to +70°C
Use: normal pressure
| | |
| --- | --- |
| Overall dimensions W x H x D | 235 x 175 x 210mm |
| Additional place requirement for coupling | 110mm |
| Usable interior space W x H x D | 210 x 110 x 180 |
| Usable volume approx. | 4.5L |
| Weight | 0.9KG |
| Total all-over load | 5KG |
Product description
Hose with quick coupling for gas filling.


Product advantages
» immersible door with circular seal
»Two connections for gas filling including quick couplings with self-sealing valves and hose
We have other model too. Please contact us for any enquire




Desiccators, Non-carcinogenic Desiccant and Dry Cabinet
Cat. No.

Product Description

Packing

Price (HKD)

C0032004-1EA

DESICCATORS DIA 210MM

1EA

250

C0032005-1EA

DESICCATORS DIA 240MM

1EA

300

C0032006-1EA

DESICCATORS DIA 300MM

1EA

530

B0127-180

Desicator Vacuum 180mm

1EA

312

1530642-1KG

Desiccant : Silica gel with humidity indicator (orange) 4-8 mm Higher adsorption
capacity, no carcinogen cobalt Chloride

1KG

150
Auto DryBox
Auto DryBox (desiccators, auto-electronic desiccators, auto dry, dry box, humidity control box, dehumidifying cabinet, dry cabinet, low-humidity storage box, low-humidity keeper etc. ) are suitable for optical photographic equipment, key materials for hi-tech manufacture / R&DK, information media, precision equipment, food and medicine, valuable collections.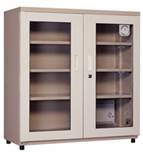 MODEL

DX-76

DX-106

DX-126

AD-280H

RH RANGE

25-55% RH

25-55% RH

25-55% RH

25-55% RH

OUTSIDE DIMENSION (WXHXD CM)

40X55.5X41.2

40X83.5X41.2

40X95X41.2

88 x 90 x 39.5

INSIDE DIMENSION (WXHXD CM)

36X46X35.7

36X74X35.7

36X(TOP34.9 /BOTTOM46.6) X35.7

82.8X79.2X33.7

CAPACITY (LITERS)

68L

100L

123L

255L

CONSUMPTION

6W

6W

6W

12W

(W/per hr.)

ACCESSORIES

SLIDING

TRAYS(1) +SHELVES(2) /HYGROMETER

SLIDING

TRAYS(1) +SHELVES(3) /HYGROMETER

SLIDING

TRAYS(2) +SHELVES(3) /HYGROMETER

SLIDING

SHELVES(3) /HYGROMETER

BODY MATERIALS

COATED STEEL PLATE

DOORS

PVC EXTRUDING FRAME, GAS TIGHT MAGNETIC MATERIALS, TEMPERED GLASS, LOCKS (Coated thick steel plate)

POWER SUPPLY

220V/ 50Hz

220V/ 50Hz

220V/ 50Hz

220V/ 50Hz

LIST PRICE (HK$)

$2,750.00

$3,850.00

$4,650.00

9360

SPECIAL PRICE (HK$)

$2,250.00

$3,150.00

$3,880.00

$7,800.00
Features: Prevention of wetness, fungus, dust, oxidation, aging & rust/ Automatic 25~55% RH at ambient temperature/ silent operation/ No consumable parts required/ No consumable parts required/ Minimal electricity consumption/ Low one-time cost for lifetime protection

Model Name:MH-450
RH Range 25%~ 55%RH
External Size (W x H x D cm) 106 x 96 x 46.5
Shelves 3 Hygrometer 1

Capacity (Liter) 440
List Price: HK$24,680
Special Price: HK$19,730



Model Name:AD-580H
RH Range 25%~ 55%RH
External Size (W x H x D cm) 88 x 90 x 74.5
Shelves 3 Hygrometer 1
Capacity (Liter) 510
List Price: HK$27,690
Special Price: HK$22,150



Model Name:AD-1280H
RH Range 25%~ 55%RH
External Size (W x H x D cm) 120 x 193 x 65.5
Shelves 5 Hygrometer 1
Capacity (Liter) 1250
List Price: HK$54,380
Special Price: HK$43,380


3510346-1EA


Magnetic Hotplate stirrer
• Rugged Aluminum Casting and Powder Coating Body,
Ceramic Coated Stainless Steel Top Plate • Ambient +5oC Heat up to 380oC
• Electronically Controlled Stirring from 60 to 1500 rpm
• Plate Dimension: 180 x 180 mm heating area.
Overall Dimension: 250(W) x 250(D) x 110(H) mm • Power: Max 500Watt, 4.0amp



HKD 2800

RR98075
SC20050-7X15MM
SC20050-7X34MM


Stir Bar Cross Shape PTFE Magnetic
Stir bar, DIA 7x15mm
Stir bar, DIA 7x34mm

HKD 230Each
$160/10PCS
$210/10PCS


E100061-1EA

Dragon 220 –Max. Temp.: 1300C
Working Time (min):60
Dimension(mm): H94xW115xD78
Dry Weight (g): 425

HKD 400
No.

Description

Size

Pkg

Price HKD

P6010018-25EA

Microtube Rack for 1.5ml microtubes 80holes

For 1.5ml tube

25/PK

350

P109151-500EA

Flat-top Centrifuge Tubes

15ml

500/PK

650

P109501-500EA

Flat-top Centrifuge Tubes

50ml

500/PK

800

P000159-250

Wash Bottle PP

250ml

1EA

18

P000159-500

500ml

1EA

22
JR001-1EA

Safety Spectacle Standard

Clear

25/EA

HKD 200/10EA

JR011-1-1EA

Safety Spectacle Standard Arm adjustable

Clear

30/EA

HKD 200./10EA

JR086

Face Shield Standard, ( Yellow top)

Yellow

1EA

HKD 300/EA

P6010028-500EA

Round-Bottom Tube (12x75mm), PS Cap Sterilized 25/sleeve

25/sleeve

500EA

HKD 550

P6010029-1000EA

Round-Bottom Tube (Test Tubes), None Cap / 12 x 75mm / 5ml 1

1000EA

HKD 550

P6010058-500EA

Test Tubes 14ml PP, Pre-Sterilized 17x100mm 25/sleeve

25/sleeve

500EA

HKD 700
For details, please contact our Sales Department by sales@advtechind.com